Here's a Purcell non-bio
Nyal Purcell - is a self-taught musician, songwriter, sound recordist & performer.
        Personal Information
Birth name:  Niall Purcell
From:  Antrim

(North of Ireland)

School:  St Malachys' High
Height:  5ft 6"
Sign:  Aries
Hair:  Dark brown

(with some greys)

Eyes:  Hazel

(green/brown)

Instruments played:  Piano, synth, guitar, kalimba, digital drums
Band memberships:  NRG, Eternia, Denial, Peach, Pulse, Purcell White
Favourite colour:  Yellow
Favourite novel:  Pride and Predjudice
Favourite film:  Wuthering Heights
Favourite outfit:  The sky or the sea
Likes:  Truth, freedom, nature, compassion, beauty, romance & gentleness
No time for:  Materialism, envy, lies, aggression, authority, scientism, status-seekers, control-freaks
Favourite quote:  "You loved me as a loser, but now you're worried that I just might win" - Leonard Cohen
Outlook:  People can 'believe' anything  but only the truth can be 'known'.
After playing up & down Ireland & the UK for many years, keyboardist Nyal (Christened 'Niall') has released several albums, EPs & singles.

The song 'Spirit' ('Spirit In The Dark')  won the 1992 ISR/Radio Limerick One international song competition, resulting in radio airplay across Europe & four States in America.
Quote: "The overwhelming consensus is that Nyal has a very unique voice and a great songwriting talent" - Dr John Moloney, RLO (Radio Limerick One).

Much of Nyal's early years in music were spent struggling to assemble & keep bands together.
The original idea was to form a soul-influenced hard-rock band  with a focus on emotionally charged  melodic phrases coupled with poetic lyrics & flamboyant performances,  but in a traditional 5-piece live band set up.
However, this proved difficult, as Nyal had to learn the hard way  that opposition (and "promotion")  often appears behind a "friendly"  face, full of apparent ambition . . . & a lot of empty promises!
He also encountered much opposition over his commitment to playing original songs, something which is hard to understand considering the high quality of his work.
Eventually (albeit reluctantly)  going solo, over time Nyal's music developed into a kind of electronic rock,  & it was this approach that allowed him to achieve way more than any "band"  would have allowed or ever made possible, beginning with his debut album 'Tales of Passion'  which was released in 1998, but then remastered & re-released at 432Hz in 2013.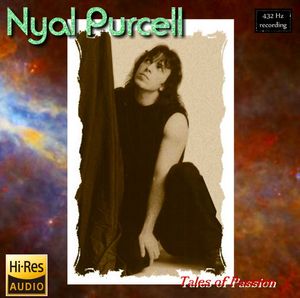 Above: Debut album 'Tales of Passion' 1998
To date, Nyal has released six studio albums, eighteen singles, one Christmas EP, two compilation albums  & he indicates that he's still writing music,  & still has many unrecorded songs.
However, Nyal's desire to record & perform completely live & in real-time (with or without a band)  has driven him away from 'electronic' music,  in favour of a more traditional, singer-songwriter-keyboardist approach.
As with his debut album (above)  Nyal now performs & records all his music at 432Hz.
Now all that's left to complete this bio is to invite you to check out Nyal's music for yourself & make up your own mind as to what kind of artist Nyal Purcell  is.
Enjoy listening.
Bio by April Smyth